Punjab Gurdwaras Darshan Yatra Tour - Punjab Tourism


Punjab Gurdwaras 8 Days Tour Package
>> Click for Details & Price Quote
ITINERARY: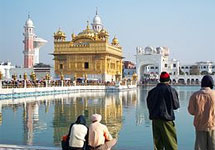 Day 01 : Amritsar
After arrival at Amritsar Airport /Railway Station meet and Greet and transferred to hotel in Amritsar. After fresh up starts your city tour with the blessings of Harmandir Sahib (also called Sri Darbar Sahib and Golden Temple) is not only a place of worship but a rallying centre of the Sikh community. Sri Harmandir Sahib is the heritage of the Sikh people gathered in their five hundred years old history. Legends and miracles are connected with the holy tank while great martyrdoms and triumphs are associated with various spots of the temple precincts. Also visit Gurdwara Sahida Sahib (Gurudwara baba deep Singh Jee Sahid) after Darshan back to Hotel .Overnight stay in Amritsar hotel
Day 02 : Amritsar - Tarn Taran – Goindwal Sahib - Amritsar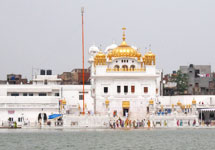 After Breakfast drive for Tarn Taran Sahib – Sri Guru Arjan Dev laid the foundation of Gurdwara Tarn Taran Sahib in honor of Guru Ram Das and started the excavation of a tank even larger than Amritsar. Gurdwara Tarn Taran Sahib has one of the largest tanks and resembles the Harmandir Sahib, except that it is built on the side of the tank and has a marble exterior. Guru Arjan Dev also established the first home for lepers in India at Tarn Taran. After Darshan drive for Goindwal Sahib— Gurdwara Shri Baoli Sahib in Goindwal Sahib was the first centre of Sikhism and was established by Sri Guru Amar Das Ji. The Hindus went on pilgrimage to Hardwar and Benaras but the Sikhs needed a place of their own. Understanding this, Sri Guru Amar Das Ji purchased the land and personally helped in the construction of the Gurdwara and Baoli (well) with 84 steps leading down to it. Then Visit Khadoor Sahib- Sri Khadur Sahib was the family home of second Guru Sri Guru Angad Dev Ji. The Guru settled here with his wife Mata Khivi and raised their three children here. Sri Guru Angad Dev Ji established his religious center here and spent the rest of his life at Khadur Sahib. Here Shri Guru Angad Dev appointed Guru Amar Das as his successor and the third Guru. A grand Gurudwara Khaddi Sahib has been constructed here, in memory of Guru Amar Das. Evening Return back to your hotel. Overnight stay in Amritsar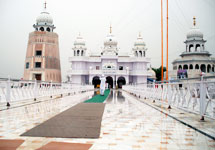 Day 03 : Amritsar - Damdama Sahib (186km 3/4hrs)
After breakfast drive for Bhatinda , Visit Takht Sri Damdama Sahib - Damdama Sahib is situated in the village of Talwandi Sabo near Bhatinda. This is where Guru Gobind Singh stayed for nearly a year and compiled the final edition of the Guru Granth Sahib known as the Damdama Sahib Bir in 1705. Overnight at Hotel in Bhatinda
Day 4 : Damdama Sahib (Bhatinda) - Anandpur Sahib (180kms 3/4 hrs)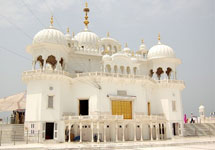 After breakfast drive for Anandpur Sahib - Keshgarh Sahib is situated at Anandpur. It is the birthplace of the Khalsa. The Khalsa order was founded here by Guru Gobind Singh in 1699. Some of the weapons of Guru Gobind Singh are displayed here. The most precious of these is the actual Khanda (double edged sword) used by Guru Gobind Singh to prepare the amrit (Nectar) used in the first Khalsa initiation ceremony. Also visit Gurudwara Kiratpur Sahib after Overnight stay in Anandpur Sahib.
Day 5 : Anandpur Sahib - Manikaran Sahib (272km 6/7 hrs)
After breakfast you will proceed for Manikaran Sahib, arrive Manikaran Sahib in the evening. Overnight stay in hotel in Manikaran.
Day 6 : Manikaran Sahib - Chandigarh (238 km 6/7 hrs)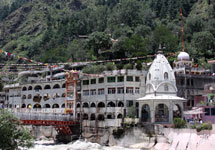 After breakfast visit Gurdwara Manikaran Sahib, Manikaran sahib is sacred place for the Sikhs, it is believed that Sri Guru Nanak Dev Jee payed a visit here. The record of this can be found in the Janam Sakhi or the 'Twarikh Guru Khalsa' (by Giani Gian singh ). There is mention that along with his disciple Bhai Mardana, Guru Nanak Dev Jee came down to this place after visiting Kalanaur, Gurdaspur, Dasuya, Triloknath, Palampur, Kangra, Mandi, Chamba and Kulu and Bijli Mahadev. The legend of Manikaran states that while roaming around, Lord Shiva and Goddess Parvati, once chanced upon a place that was surrounded by mountains and was lush green. Enamoured by the beauty of the place, they decided to spend some time there. It is believed that they actually spent eleven hundred years here. During their stay here, Goddess Parvati lost her mani in the waters of a stream. Upset over the loss, she asked Shiva to retrieve it. Lord Shiva commanded his attendant to find out the mani for Parvati, however, when they failed, he was extremely angry. He opened his third eye, a tremendously inauspicious event which led to disturbances in the universe. An appeal was made before the serpent god, Sheshnag, to pacify Lord Shiva. Sheshnag hissed thereby giving rise to a flow of boiling water. The water spread over the entire area resulting in the emergence of precious stones of the type Goddess Parvati had lost. Lord Shiva and Goddess Parvati were happy at the outcome. The name Manikaran is derived from this legend. The water is still hot and is considered extremely auspicious. A pilgrimage to this place is thought of as complete. Infact, it is also believed that there is no need to pay a visit to Kashi after visiting this place. The water of the spring is also supposed to have curative powers. The water is so hot that rice can be cooked in it. After Darshan the day is at your leisure to enjoy the nature's beauty. , Overnight stay Chandigarh.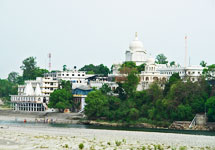 Day 7 : Paonta Sahib
After Breakfast, drive to Paonta Sahib is a small town in the south of Sirmaur district in the Indian state of Himachal Pradesh. It is an important religious spot for Sikhs and a bustling industrial town. It is a city sacred to the memory of Guru Gobind Singh, the tenth Guru of the Sikhs who stayed here soon after his father Guru Tegh Bahadur's execution, when he became the Sikh Guru in 1675. This is place where most of Banis of Dasam Granth were written by Guru Gobind Singh.

It has a large Gurudwara on the banks of the river Yamuna, the river being the boundary between the states of Himachal Pradesh and Uttarakhand. This Gurdwara has a very busy Langar that serves food free to some 2,000 to 5,000 visitors every day. Paonta Sahib retains tangibly memories of the martial Guru in the form of his weapons and a majestic Gurudwara and recalls his presence even in the name of the city which is derived from "paon" meaning "foot" either because he set foot in this place or according to an alternative story, because he lost an ornament which he wore on his foot called a "paonta" while bathing in the river Yamuna which flows here.Overnight stay.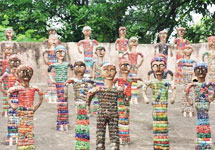 Day 8 : Chandigarh
After Breakfast drive back to Chandigarh and Transferred to Railway Station/Airport for your onward/Return Journey