Amritsar Countryside Tour - Punjab Tourism


Amritsar Village Tour
Package Overview
Book Special Amritsar Tour with Village Trip (2 Days)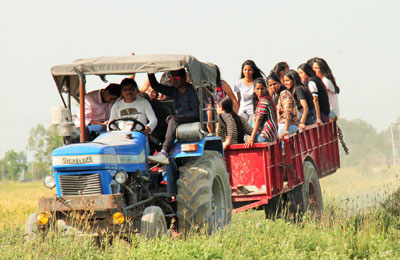 Farmer's Villa is a subsidiary of Jeet Travels, a leading provider of specialist tours for farmers, agribusiness peoples and peoples interested in rural life.
Farmer's Villa Tours utilizes the skills of an experienced team of agricultural and travel specialists to deliver an unparalleled level of service. We has an extensive network of leading farming and agricultural contacts throughout North India, enabling us to offer its clients unique, exclusive and memorable experiences at every destination.
Punjab , also Known as Bread Basket of India, is the best place for agricultural tourism. perhaps one of the most rejoiced destinations all over India. Farms all over Punjab exemplify simplicity, natural wonders as well as calmness and refreshment to the core.
There is nothing to disturb the calm unless you count the chirping of birds or the crops swaying in the fields. You can have a great experience by enjoying fresh food, air and a splendid ambiance. Reconnect with your roots, experience the tranquility of countryside and farm life, and walk along the sprawling acres of carefully nurtured crops. Gaze at the rural idylls as the shadows lengthen and a spectacular sunset follows, and when night comes be mesmerized by the sky with its millions of glittering stars. Truly, this is a magical Punjab getaway with a twist of unpretentious luxury. This tour is an exploration of the countryside around Amritsar, Punjab.
Tour Coverage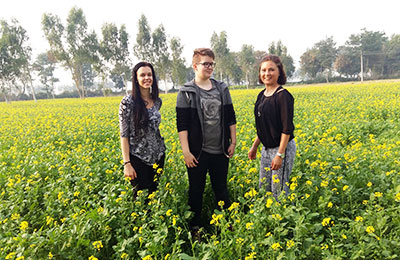 There will be a representative accompanying you to Farmer's Villa. While travelling you'll have a glimpse at vast green fields, orchards, tractors and trucks, rural markets selling farm implements, etc. The representative will familiarize you with the basics of the economy, society and culture of rural Punjab.
You will see various shops in the village, livestock grazing and feeding, and the drying of cow dung fuel cakes. There will be a tractor ride through the beautiful fields and have a look at various seasonal crops growing. After a ride you'll end up at the home of a local family for tea and snacks. While returning to the hotel, just look around at the traditional brick kiln where bricks are made by hand.
Begins: From the Amritsar hotel
Ends: At the Amritsar hotel
Timings: 9 am onwards
Activities
Includes/Excludes
Includes:
Excludes:
Pricing
Rs. 750/Adult
Rs. 450/Child
for Village Tour with Lunch
Transportation Costs EXTRA
Rs. 1400 for 4+1 Seater (Indigo/Etios)
Rs. 1800 for 6+1 Seater (Innova)
Rs. 3500 for 12+1 Seater (Tempo Traveller)
Pickup and Drop from/to your hotel in Amritsar
5% GST Extra

AMRITSAR COUNTRYSIDE TOUR - Watch on Youtube