Punjab with Himachal 16 Days Tour Package - Punjab Tourism


Punjab with Himachal Tour Package
>> Click for Details & Price Quote
ITINERARY: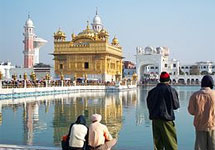 DAY 01: AMRITSAR
Arrive Amritsar Railway Station/Airport. On arrival meet and greet by our representative who will take you to the Farmers Villa. Start your city tour with the blessings of Golden Temple-the most important Sikh shrine also known as Harimandir Sahib and Darbar Sahib. Then visit JallianwalaBagh- the place that reminds every Indian of the brutal and hearless massacre by British general Dyer. Visit Durgiana Temple: - The temple complex houses Shree Laxmi Narayan Mandir with a huge pond on its periphery .Maharaja Ranjit Singh Museum and Panorama in Ram Bagh The landscaped garden with summer palace of Maharaja Ranjit Singh in the center. The Maharaja later named it Ram Bagh. It has a museum with relics of Mughal era and hand drawn sketches and portraits of the ruling Sikhs.
Afternoon at your leisure for shopping etc. In evening visit Indo-Pak Wagah Border to watch Flag Retreat Ceremony- Wagah, an army outpost on Indo-Pak border 30 Kms from Amritsar where the daily highlight is the evening "Beating the Retreat" ceremony. Soldiers from both countries march in perfect drill, going through the steps of bringing down their respective national flags. As the sun goes down, nationalistic fervour rises and lights are switched on marking the end of the day amidst thunderous applause. Overnight stay in Farmers Villa.
Day 02: AMRITSAR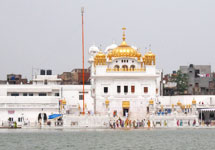 After breakfast, Visit Amritsar's Local Village near Farmer's Villa and Interact with Village People, Take a ride of Tractor across streams, Take a walking tour of the Vegetable farm, Stroll among Onion, Potato, Carrot, Radish, Green Peas, Cauliflower, Cucumber, Brinjal, Capsicum or Other Seasonal Vegetables, Take a trip to a dairy farm and Milking cows & buffaloes, Dinner and Overnight at farmers Villa.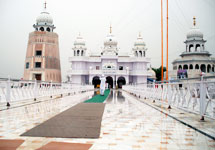 DAY 03 JALANDHAR
Morning drive to Jalandhar on arrival in jalandhar hotel then start your city tour with PushpaGujral Science City Science City is being built withits aim of learning, fun & amusement out of Science for people of all ages & all walks of life. It will arouse creativity in young minds; help in building a scientific temper in the state, Gurdwara Chhevin Padshahi Guru Hargobind visited the city of Jalandhar during his tour of Doaba area.
Gurdwara Chhevin Padshahi in BastiShaikh, Jalandhar city, stands on the spot where Guruji granted interview to a Muslim holy saint popularly knownasShaikhDarvesh, Devi TalabMandir It is situated in the heart of Jalandhar City. The old Devi Talab has been renovated and, in its centre, anew temple has been built. Overnight stay in hotel.
DAY 04: JALANDHAR - LUDHIANA - PATIALA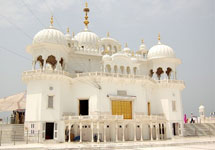 After breakfast, drive to Ludhiana on arrival in Ludhiana visit Sri DukhNiwaran Sahib is though not a Historic Place, still doing very well in Spreading Sikh Guru's Message to All Over. Ludhiana is an industrial town, but it is having few places for Tourist interest also. Whoever comes here has never gone back without imbibing the essence of Punjab. Later drive to Patiala on Arrival in Patiala check in hotel. Start your tour Qila Mubarak Complex The Qila Mubarak complex stands in 10-acre ground in the heart of the city, and contains the main palace or QilaAndroon (literally,'innerfort'), the guesthouse or Ran Baas and the Darbar Hall. Sheesh Mahal was built behind the main MotiBagh Palace to serve as a pleasure complex.The paintings in two of its well maintained, mirror-worked Patialachambers are of Kangra and Rajasthaniqalam, depicting the poetic visions of Keshav, Surdas and Bihari. GurdwaraDukhNivaran Sahib: This shrine is situated in what used to be the village of Lehal, now part of Patiala city. According to local tradition, supported by an old handwritten document preserved in the Gurdwara, one Bhag Ram, a jhivar of Lehal, waited upon Guru TeghBahadur during his sojourn at Saifabad (now Bahadurgarh), and made the request thathe might be pleased to visit and bless his village so that its inhabitants could be rid of a serious and mysterious sickness which had been their bane for a long time. Overnight stay in Patiala.
DAY 05: PATIALA - CHANDIGARH
After breakfast, Drive to Chandigarh check in the Hotel, after freshup Start your city tour with Rock Garden which consist of various arts and objects made of industrial and urban waste. It is situated in sector-1. The credit of its foundation goes to Dr Nek Chand who was the road inspector in the Engineering department of Chandigarh. Then visit to Sukhna Lake that lies in the foothills of shivalik range. People visit in the morning to enjoy fresh breeze. It serves as a picnic spot and good place for water activities. After that visit Rose Garden which is Asia's largest rose garden. It contains more than 17,000 plants and over 16,000 varieties of roses. The venue serves annual rose festival or festival of gardens. In the evening enjoy shopping in sector 17 market. Back to hotel, overnight stay in Chandigarh hotel.
DAY 06: CHANDIGARH - ANANDPUR SAHIB - CHANDIGARH
After breakfast, drive to Anandpur Sahib from Chandigarh. It is one of the most important sacred places of the Sikhs and is closely linked with their religious tradition and history. It was founded in the year 1664 by ninth guru, Sri Guru TegBahadurji. The Guru purchased this site from the ruler of Bilaspur. After that visit Sri Kesgarh Sahib, it is located in the centre of Anandpur Sahib. It is also known as Takht Sri Kesgarh Sahib. It was the place where Khalsa was born. Than proceeding to BhakraNangal Dam. It is the world's second highest straight gravity dam built across the River Satluj. Dam derives its name from a village called Bhakra, now it is submerged in Gobindsagar reservoir. Overnight Stay at Chandigarh.
DAY 07: CHANDIGARH
After breakfast, drive to Shimla on the way visit Pinjore garden , further drive to Shimla ,reach Shimla in the evening , check in the hotel, overnight at Shimla Hotel.
DAY 08 : SHIMLA
After Breakfast visit the Ridge, church, This dressed - stone church with fine stained glass has a cruciform design.It is located just off the Mall, below the District Courts. This is thesecond oldest church in northern India (the oldest is in Ambala), Christ Church was build between 1846 and 1857. The church is one of the Shimlas major landmarks and is renowned for its stained glass windows. You can have a look inside the church or attend English-language services every Sunday morning during the tourist season.
Jakhoo Hill/Temple - dedicated to the monkey god, Lord Hanuman At 2455 m,this is the towns highest peak and a vantage point for Shimlas famous views. The summit is crowned with a temple dedicated to Lord Hanuman. The hill is full of paths and narrow roads which are enjoyable walks.
Kufri (16km) At 2501m, this is famous for its wide views and skislopes. An enjoyable walk leads up to the Mahasu Peak. Return to Hotel, overnight at Shimla Hotel.
DAY 09 SHIMLA - MANALI
After Breakfast, driver 260 KM to Manali , reach manali in the evening, check in the hotel, Overnight stay at hotel in manali.
DAY 10 - MANALI
After Breakfast at Hotel, visit to Temple of Hadimba Mata, Vasishtha Bath & Club House, SolangVally , overnight at Manali.
DAY 11 MANALI
After breakfast full day visit to Rohtangpas - a famous snow point. Enjoy Ice Skating and photography at Manali.
DAY 12 MANALI - DHARAMSALA
After Breakfast Drive 350 KM to dharamsala, reach Dharamsala in the evening Overnight at Dharamsala Hotel.
DAY 13 DHARAMSALA
After breakfast at the hotel, we take you to Dalai Lama Temple, Bhagsu Nag Temple and Water Fall, then We visit Norbulingka Institute which is perhaps one of its best in the world. The institute has its own temple, Museum, Meditation Hall, One thousand, one hundred and seventy-three images of the Buddha decorate the forty-four foot high temple hall, Visit Tapovan. Overnight stay at Dharamsala
DAY 14 DHARAMSALA - DALHOUSIE
Morning drive to Dalhousie On arrival in this Himalayan hill resort check in at the hotel. The rest of the day is free for you to enjoy at leisure. We suggest you enjoy a walk along the mall road, Overnight stay at hotel in Dalhousie.
DAY 15 : DALHOUSIE – KHAJJIAR- CHAMBA
Dalhousie After breakfast at the hotel, we take you to Khajjiar, where you can enjoy Horse riding (Optional) and enjoy the sceneries. Afternoon drive further to Chamba, visit the laxmi Narayan Temple and Chamba Museum, Eening drive back to Dalhousie. Overnight stay in Dalhousie.
DAY 16 : DALHOUSIE
After Breakfast at Hotel, we transfer to Railway Station/airport for onward/return journey.