Holla Mohalla Festival Anandpur Sahib


Holla Mohalla Anandpur Sahib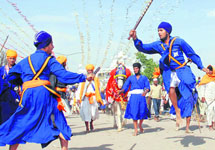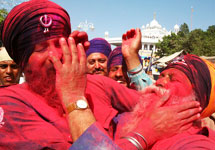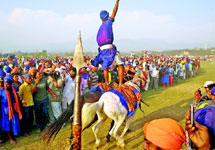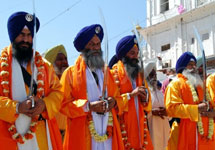 Holla Mohalla is organized in Anandpur Sahib by the SGPC every March, and begins the day after the Hindu festival of colour, Holi. The festival is also celebrated in gurdwares across the globe.
The development of 'sports' as a modern phenomenon in Punjab derives from the leadership of the Sikhs Gurus, who encouraged their followers train as wrestlers, horse-riders, archers and more, in response to the constant warfare between Sikh and Mughal armies. It was Guru Hargobind, the sixth Guru, who began the custom of holding wrestling competitions in Amritsar. The festival of Holla Mohalla follows in this tradition, being a respected and, today, much-anticipated show of strength and skill. Instituted by Guru Gobind Singh on 22 February 1701 as a showcase for sikh martial arts, Holla Mohalla derives its name, in fact, quite literally from 'the charge of an army'. Thus 'Holla', or 'halla', means a military charge, while 'mohalla' means a procession, or army column.
Today, what began as a day-long exhibition of mock battles and poetry at Holgarh Fort, has expanded into a week of spectacular archery, gymnastics, riding and fencing, alongside celebratory music, poetry and kirtans. The Holgarh Fort has now been converted into the Gurdwara Holgarh Sahib, and all those who attend the festival eat their meals at langars provided by the organizers. On the last day of Holla Mohalla, a procession is organized, in precise military style complete with war drums and standard bearers, from Takhat Sri Kesgarh Sahib, the city's most sacred gurdwara via the city's many other important Sikh srines, and back to the Takhat.
Inseparable from Holla Mohalla – and, indeed, from the sikh martial tradition – are the Nihang order of Sikhs. Easily identifiable by their dark blues robes and peaked turbans, the Nihangs were the vanguard os the Guru's armies and part of an order said to have been founded by an 18th century misl chief called naina singh who first adopted this form of dress. Through a fairly small sect, the Nihangs were – and continue to be – characterized by discipline and bravery, which qualities brought them to the fore in the Khalsa, and gave them both a political and moral voice even during the reign of Maharaja Ranjit Singh. Some of the most breathtaking feats at Holla Mohalla are performed by skilled Nihangs. These include the dangerous arts of tent-pegging and gatka – in the latter, 'warrious' engage in mock fights, but use real weapons. Nihangs are also skilled horse-riders, and undertake feats such as bare-back riding, and horse-back acrobatics such as standing up on a horse, riding two horses at once, and more.